You could never describe us as boring.
We put the fun back into Financial Planning recruitment. 
Meet our relentlessly positive team of experts
Lewis has worked in the Financial Services sector since 2011. Throughout those years Lewis has built up close working relationships with many successful financial companies and individual professionals, bringing his extensive knowledge and experience to the recruitment industry. Lewis is also a fully qualified Recruitment Consultant and specialises in the delivery of a personable approach, supporting clients and prospective clients for Antony George, ensuring the best available outcome is always identified and implemented.
Lewis is a performance car fanatic, a clay pigeon shooting enthusiast and a keen cyclist. Since 2017, Lewis raises money annually for a local hospice, he finds this particularly rewarding as his efforts supporting fundraising events and including cycling to various European City destinations to aid the charity, is a worthwhile endeavour.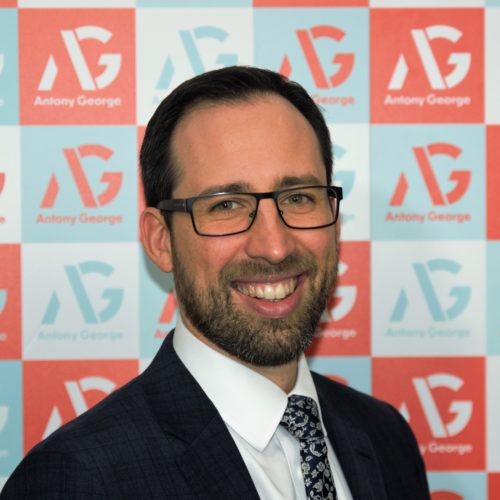 Lee started his Financial Services career as a private introductory broker. Developing expertise and high level connections servicing accounts with several listed companies including; Stockbrokers, Family Offices and Asset and Wealth Management companies. In 2016 Lee qualified as a recruitment consultant and transferred his knowledge and skillset to the recruitment industry. Lee is responsible for the delivery of candidates for Antony George Recruitment, loves a process, always has a strategy and never fails to deliver.
Lee is married to Jennifer who he first met at school and has two young boys called Harry and Alfie. Along with being a West Ham fan, Lee has a passion for all types of fishing and cannot wait for the next time he boards that boat and catches something fresh for dinner!
Jade joined Antony George in the summer of 2017 after completing her Business Diploma at college. Since then she has continued with her studies and has achieved certificates in Business Administration and Recruitment Resourcing and has recently taken on the challenge of a Digital Marketing diploma. As you can probably tell, Jade has gained experience within various areas for the business and continues to push herself and the business forward. Jade will be the first person who meets and greets you whether that be face to face or over the phone and will do her utmost to ensure you speak with the right individual within the business.
Outside of work Jade can be found socialising, going out for dinner, going on holidays and spending time with her family and friends. She also loves to bake for her loved ones occasionally, will take requests from Lewis and Lee to make and bring into the office!